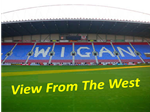 We're almost at the end of November and I have just realised that I haven't published a football related blog since the back end of last season. At the end of May, once Wigan's second relegation in two seasons was confirmed, I wrote about how playing in the third tier of English football again might not actually be the worst thing that has ever happened to the club.
Yes, it was great to be in the Premier League in many ways, but once you've seen one Thierry Henry rip your team to shreds you've seen them all. Personally I miss seeing some of the world's top players visiting our humble abode every other week, but I don't miss seeing them batter us into submission every single time.
So, as much as I liked the thought of Wigan Athletic being a Premier League club, I wasn't losing too much sleep over the thought of leaving it all behind. In May, in true Roberto Martinez fashion, I tried to take the positives out of tumbling down to League One. Six months down the line therefore, and almost a full four months into the new season, let's review where we are at. I'll review the same 5 topics I talked about back in May.
New squad –  I read somewhere that, since January, a total in excess of sixty players have come  in, or gone out of, the club. By and large, that business has been a success and it's been great to see some of the young kids being given a chance. Foremost of those has been young Jordan Flores, the son of one of our popular long-suffering fans. I don't know Jordan's dad personally, but I understand that when the young Flores was sent off at Oldham, his dad grounded him! Bet that never happened to Cristiano Ronaldo. Oh, and the 32-year old yard dog we signed from Blackpool who I was pretty sceptical about back in May? Probably the player of the season so far, that's all.
Away games – Ironically, I have done hardly any away games this season for one reason or another. For those that like a good boozy day out though, it's shaping up to be one of the best away seasons ever. Plenty local games, and plenty of decent performances and results by the team. With Fleetwood away in between Christmas and New Year and Blackpool as the last away of the season, there is plenty still to look forward to. And many brain cells to kiss goodbye to.
Winning games  – When we got relegated from the Premier League everyone's first, understandable, thoughts were that at least we would win a lot more games in Championship. When we got relegated from the Championship everyone's first, understandable, thoughts were that at least we would win a lot more games in League One. Fortunately, this time round, we seem to be doing much better and are currently fifth in the table; veritable nose-bleed territory.
FA Cup – It was with some kind of snobbish reluctance that I sat and listened to the draw for the first round of the FA Cup a few weeks ago. I still can't believe that as winners of the old trophy as recently as 2013, we still have to slum it in the first. A 4-0 defeat at Bury meant there would be little danger of us slumming it in Round 2 at least. Still, we now have our sights set on a third Johnstones' Paints Freight Rover Autowindshields trophy triumph and another trip to our second home in North London around April time.
Losing fans – The club's management will not agree with this but the inevitable loss of fans that comes with successive relegations has been a godsend in my view. The various social media forums are almost a place you don't mind visiting these days. Lots of the complete brain-deads have gone back to watching Man U or Liverpool and the rest have very little to complain about given our relative success out there on the pitch. As for the three herberts that ?used to sit behind us? Well, praise be, they have gone! And there's hardly ever a long queue to get over the bridge on the way back to The Brick. We even co-habit happily with that berk who insists on carrying his bike over the bridge towards the ground at 5 o'clock on the day of every Saturday home game when everyone else is trying to go in the opposite direction. Happy days indeed!
See you in the play-offs, at worst – Griff